Overview
Singing Development Day with Jack Apperley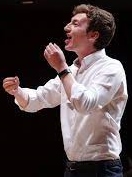 Sevenoaks Philharmonic Choir warmly invites all singers to join us for a singing development day with the lively and charismatic conductor, Jack Apperley.
We will use Verdi Requiem as the vehicle for this event but improving voice production and ensemble singing will be the aim of the day as much as improving understanding of the work.
We are delighted to welcome Jack Apperley to lead our 2023 Singing Development Day.
Jack is an energetic and fun-loving freelance conductor who is making his name in the field of choir development and we promise you a lively and enjoyable day.
He is Music Director of Goldsmiths Choral Union and Assistant Chorus Director of the London Symphony Chorus where he has helped prepare the chorus for conductors including Sir Simon Rattle, Sir Antonio Pappano and John Adams.
He is also Music Director and Conductor of the Imperial College Chamber Choir, Concordia Voices as well as conducting University Upper Voices at the University of Birmingham.
Bonus Invitation
Sevenoaks Phil is performing Verdi Requiem with Sevenoaks Symphony Orchestra and professional soloists at Stag Theatre, Sevenoaks on Saturday 1st July 2023.
As a participant in this workshop you are invited to join us for this performance – we ask just that you attend at least two of our regular Tuesday evening rehearsals.
We hope that you will enjoy performing this big choral work which may not often be possible for individual singers or members of smaller choirs.
Workshop Plan 
10.30 – 11.00       Registration and Coffee
11.00 – 12.00       1st Session
12.00 – 12.15        Break
12.15 – 1.15           2nd Session
1.15 – 2.00            Lunch (please bring packed lunch)
2.00 – 3.00           3rd Session
3.00 – 3.30           Tea and Cake
3.30 – 4.30            4th Session
Workshop Fee
(inc Tea/Coffee/Cake)
Singing – own score                                      £25
Under 25                                                        £10
Singing – hire score requested                     £27
Under 25                                                        £12
Non-singer observing                                    £10
We expect demand for places to be high – please register (and pay!) as quickly as possible to secure your place….and put the date in your diary straightaway!
For Further Information
Please contact :
John Larner, Chairman Sevenoaks Philharmonic Choir, 17 Beaconfields, Sevenoaks, Kent, TN13 2NH
Telephone : 01732 457777           Mobile : 07802 335585           Email :  jlarnerof7oaks@googlemail.com
To Book Your Place – Complete Form Below and Click button to send :